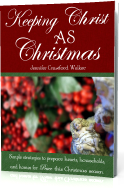 © 2015 | All rights reserved. | Keeping Christ AS Christmas | ChristASChristmas.com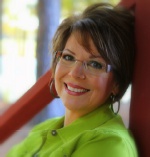 To me, Christmas is the most wonderful time of the year. But I'll be honest…Sometimes the frantic thought of expectations and lists that must be accomplished between now and then robs my Christmas joy and leaves me feeling drained and exhausted. How about you? Does thinking about Christmas seem a bit overwhelming?
If your plate is full, your money is tight, and your Christmas expectations seem impossible, this book was written for you! Keeping Christ AS Christmas is not another volume of "to do" lists for the holidays. It is a fresh approach to familiar traditions through simple strategies and sanity savers.
With practical and inspirational ideas, information, and instruction,
Keeping Christ AS Christmas will help you and your family both seek and find Jesus in every Christmas activity. As you put into practice some of these simple strategies and sanity savers, your Christmas will be meaningful in a new and treasured way.
Keeping Christ AS Christmas: Preparing hearts, households, and homes for PEACE this Christmas season.

"Keeping Christ AS Christmas will be one book I will read and reread every Christmas season. It is jam packed with practical advice, ideas, worksheets, and helpful resources. Jennifer writes in a beautiful conversational style. Everything focuses on the gift of Jesus, including the motivation behind gift giving. Jennifer includes the history behind many Christmas traditions. I loved the questions asked at the end of each chapter to help make it personal for each family. And, I loved how Jennifer outlined how to spend 10 minutes with Jesus in the morning. She writes, '10 minutes with Jesus will make a world of difference in the next 23:50 hours of your day.'"
"I would highly recommend Keeping Christ AS Christmas as the perfect gift to give to yourself, your friends, and your family. I know this Christmas will be different for my family after reading this book."
- Debbie Petras, www.HeartChoices.com
"If you can buy only one book this year it should be Keeping Christ AS Christmas. This thoughtfully written book provides both encouragement and inspiration for celebrating this very special season. Using some simple strategies, Jennifer Crawford Walker details how she began to prepare her heart to have a more intimate relationship with Jesus Christ. As she shares in her book, that sweet fellowship with Jesus produces a heart and a home filled with CHRISTmas every single day of the year! If you are searching for the path to that PEACE, you can find it here."
- Janice Dulany
"Jennifer's e-book Keeping Christ AS Christmas is filled with ways to live the holidays honoring the real reason for the season - Jesus. The book is informative, inspirational, and entertaining. It has been a privilege to read the book and plan with renewed conviction to have the most 'Christ AS Christmas' holiday season my family has ever had."
- Janie Arnold Allen Bradley, Ph.D.
Keeping Christ AS Christmas is a book that will literally change the heart-attitude toward Christmas of every person who reads it. If you know Jennifer Walker then you know that she has a true, intimate relationship with Jesus Christ which guides her in everything she does. What I love about this book is that Jennifer gives practical, tangible, and realistic ways to develop our own relationships with the Lord day by day. She then shares how to keep our hearts focused on Jesus in the midst of the worldly distractions during the holiday season.
Keeping Christ AS Christmas will bring us back to the true spirit of this precious season and make a lasting impact on our hearts that will last the whole year through.
- Kim Kopp

Jennifer is a grateful Christ follower, full time minister's wife, mom, daughter, sister, homemaker, Bible student/teacher, writer, blogger, coffee drinker, chocolate eater, and truster of the Lord. Being the wife of James (a Minister of Education) and the mom of Nathan and Abigail (two teenagers) is Jennifer's full time job. The Walkers live and serve the Lord in a small town in the Mississippi Delta. Jennifer is a popular speaker for retreats and conferences and writes the blog, SmellingCoffee.
You can visit with Jennifer on the Smelling Coffee Facebook page. Also, during this holiday season, look for KeepingChrist on Twitter and the hashtag #KeepingChrist for inspirational ideas posted throughout the Christmas season.
Share your own ideas for Keeping Christ AS Christmas on the Keeping Christ AS Christmas Facebook page.

If you are interested in talking with Jennifer about a speaking engagement, you can reach her through Jennifer@ChristASChristmas.com. She'd love to pray with you about joining you in what God is doing in your area.
Buy for Kindle
Buy as Epub
Buy as PDF